A Growing GSprout Fam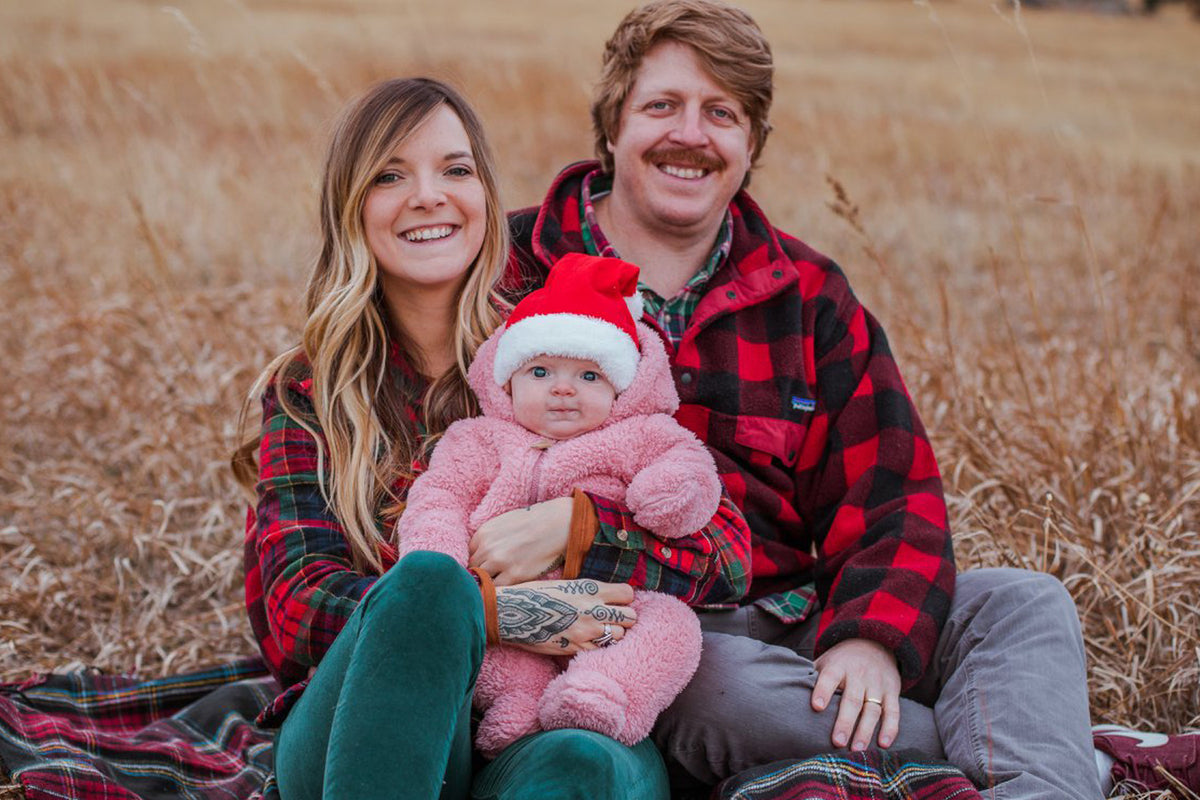 It all started because of Grassroots California's LE LA Bakers hat…
Renee Luke was a serious customer who wanted to cop the OG LA Bakers Fitted roughly 7 years ago. Ryan Connolly, founder and CEO of Grassroots California, was serious about customer service and responded to the request. Knowing he was about to drop the Version 2 snapback, he emailed Renee back, letting her know the insider scoop: she could have one shipped out, or, she could wait for the V2 drop and cop the newest style. The two emailed back and forth chatted before Ryan suggested a solution: "I'll fly you to St. Louis to help work some STS9 after-parties" and "give you the hat in person".  He wasn't looking for a relationship at the time, but the two had a great time at STS9 and instantly hit it off! 2 days later, Ryan asked Renee to be his girlfriend.
As luck would have it, a tornado hit the town, forcing Renee to stay an extra day before returning home to Athens, GA.  Ryan continued "hat-slangin'" on the road but couldn't stop thinking about Renee. Taking a detour from his road tour, he left a Texas show and decided to meet Renee back in Georgia.  As soon as Ryan and Renee connected, he offered her a position on Road Team. She happily joined just in time to head out to California, where the couple got engaged shortly after.
The couple toured together for 4 summers, selling hats at shows, festivals, and even setting up the first Grassroots storefront in Denver, Colorado.  The Larimer Street storefront was not only the center of operations for Grassroots California, but it was also home to Ryan and Renee, and Art Director and President, Graham and Rob.  The four friends loved waking up at work together and had a ton of fun living together. Renee specialized in all things HR: payroll, office management, daily sales, and photos. Not only was she a crucial part in Grassroots' business, but she also helped introduce women's apparel and designs, broadening Grassroots' market and catering to all customers, male and female.  Ryan and Renee have now been happily married for 5 years, working with the close-knit team of friends.  In the past few years, they've opened a new Denver storefront, Chicago storefront, and Warehouse space in Colorado to home the design team, shipping warehouse, and office space for the small business to operate out of.  But there was a lot more than work on the couple's minds this year.
Big News for Ryan and Renee
In December 2017, Ryan was traveling in India when he got a photo from Renee: it was an image of an ultrasound which showed they were expecting their first child!  The couple was elated. While some of their friends had kids, Ryan was eager to brush up on infant skills and support Renee through her pregnancy. "Being in charge of a life is a little scary," Ryan told me, so they both signed up for classes at the hospital including Birthing, Infant CPR, and Breastfeeding. Renee also took Prenatal Yoga which helped her body prepare for childbirth and practice breathing. "I definitely recommend it!" she said.  As preparations began to welcome their little one, Ryan and Renee also took time to share their exciting news with a photoshoot.  Of course, the Papa "Ruga" wore a Grassroots hat and button down for the pregnancy shoot and even sported a Grassroots Dad Hat and T in the delivery room!
Welcoming Layla Jane
Layla Jane Connolly was born August 12, 2018, in Denver, Colorado.  The name "Layla" pay homage to Renee's late father who passed when she was in high school. "He's a big Eric Clapton fan and big music head so 'Layla' comes from Eric Clapton," Renee shared with me. The middle name is from Ryan side, named after his mother, Jane. "We thought [labor] would be a lot harder and strenuous." Mama Renee continues, "Maybe we're blessed with a chill baby. The delivery was only 16 hours, not 30 or 40. The labor wasn't bad either. The beginning was tough but meds helped! She was really easy!"  As an advocate for medicinal cannabis-use, I wondered if THC or CBD products were used for pain, relaxation, or anxiety during pregnancy or delivery. "CBD is okay," Renee told me. "But [hospitals] test the baby for THC. [Using THC] is looked down upon during pregnancy."  In some states, I found out, a newborn who tests positive for THC can disqualify parents from receiving financial aid from state and federal services.
The Parents New Groove
As business owners and, now, new parents, Ryan and Renee had a lot to balance at the end of the year.  They were worried about taking maternity and paternity leave and going back to work, though the transition was relatively smooth for both Mom and Dad.  Renee spent more time working from home before and after Layla was born. Ryan also appreciated having a few weeks off to bond with his new daughter. "I couldn't have done that without a great staff," he humbly shares. "It's been a great experience. You can never be prepared for all of it, but we're doing great."  Ryan eased back into his routine (and mustache) by taking Layla to the Warehouse and gallery events.  Both Ryan and Renee are excited to work with her, take her new places, and see her grow. "As a parent, it'll be fun to see her quarks and funny things that she picks up. She's already smiling and making funny faces.  We can't wait to go on adventures and teach her all about outdoors and hiking!"
Growing Up Grassroots
With all the exciting baby news, the Grassroots employees were eager to meet baby Layla. When visiting the Warehouse in July, I noticed tiny, infant hats in the Sample Room and found that Ryan had already sampled some baby products!  "Baby girl's gotta rep!" he joked. "We're definitely thinking about doing a kids line with hats and infant styles. Not only will Baby Layla make a great model for these products, but she's a shoo-in for a position at Grassroots. "We can't wait til she's old enough to learn about the Warehouse!".  Grassroots will also be updating their policies so that both male and female employees will be able to take maternity- or paternity-leave to better accommodate employees with growing families.  The holidays were a very special time for the whole Connolly family. Ryan, Renee, and baby Layla, all flew to Detroit, Michigan for the holidays and spent time with Ryan's family. The trip was extra special since it was the first time Ryan's Dad got to see his granddaughter, Layla.  The couple got a lot of tips about flying with their now 4-month old but ultimately, she was really good on the flight! What was the key to a quiet, calm flight? "We put her on the boob during takeoff and landing," Ryan laughed. Noted!




SproutFam Celebrates Success!
Not only has this been an incredible year for the Connolly's, but we'd also like to celebrate the continued success of the Grassroots California company as well!  As a small business, we work closely together all year to continue this business' success and we're proud of each other's accomplishments. The design team celebrated designing and producing thousands of new hats, apparel, and accessories for Grassroots, outside clients, sponsors, and events.  Some of their favorite projects this year included the Apache Anorak Jacket and the Blacklight Bomber Snowboard.  The Chicago and Colorado storefronts celebrated many successful galleries, parties, meet and greets, and sales.  The marketing and customer service team celebrated another fantastic year of happy customers and the Warehouse celebrated shipping over fifty-thousand orders, both domestically and internationally.  Our road teams vended at over 60 events this year and represented at another 30 music festivals worldwide. We donated thousands of dollars to charities near and dear to our hearts. We welcomed DimeBags in our storefronts and added Grassroots Chile to our list of international retailers. We're super stoked on 2019's products, new locations, and events, too!
Without Ryan and Renee, this company would not exist.  We want to thank you both for your hard work over the years and for the opportunities you've created for all of us here at Grassroots! We wish you and baby Layla a happy and healthy year ahead!
From The Connolly's and Grassroots' SproutFam, Happy New Year!
|
Posted on January 10 2019