Colorado's Women in Art Showcase: Part 1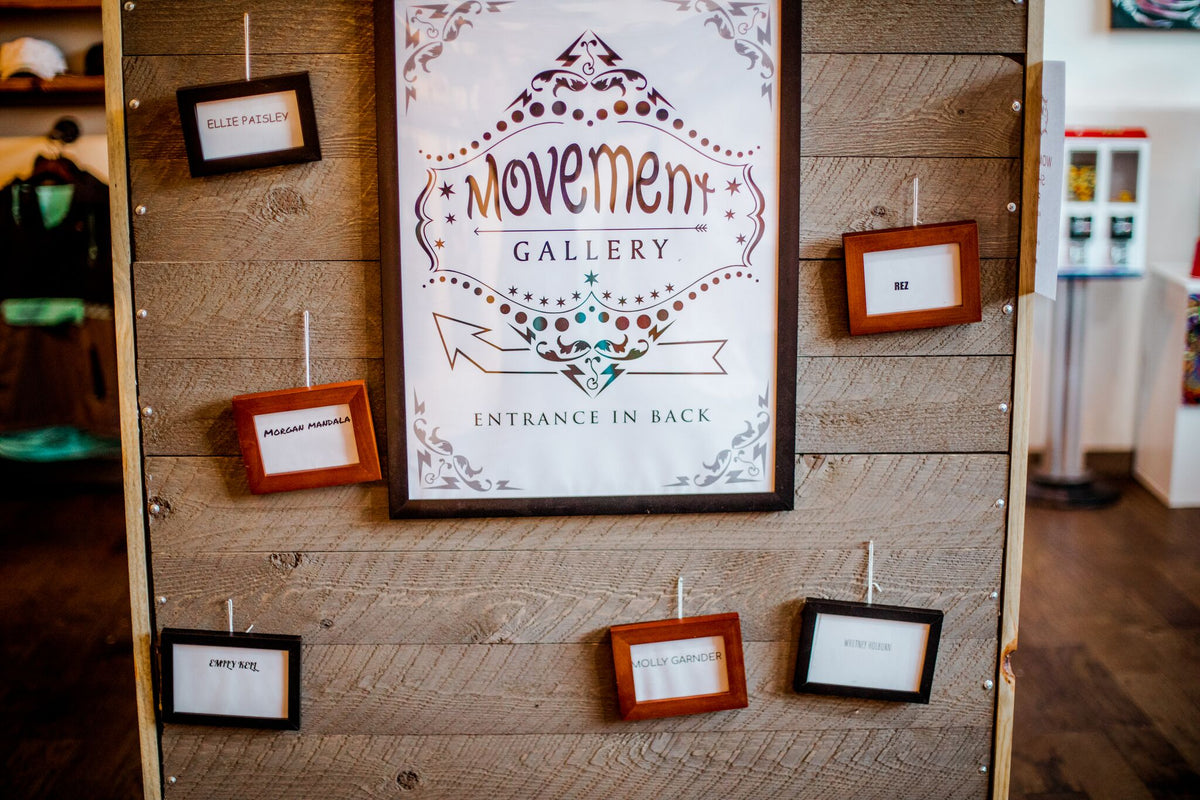 We were honored to host our first ever all women's showcase at 
Grassroots Colorado
 for September 2018's First Friday. Both the art and the women's talent spoke for itself with the incredible works displayed throughout our
Movement Pop-Up Gallery and the storefront. 
Follow along as we introduce you to the batch of babes that make up the insanely talented, artistic #ladysquad whom we had the pleasure of showcasing! 
WHITNEY HOLBOURN
Originally from St Petersburg, FL,  Whitney chose wanderlust after graduating from the Savannah College of Art and Design with a BFA in Photography and a concentration in post-production. After spending a few years in the woods of California, she set her sights on Denver and has yet to look back. Her work has been proudly shown all over the United States, now including our little shop here in Denver.  Completely moved by the human silhouette, she spends her time studying faces of people that inspire her and turning them into works of eccentric art plucked from the psychedelic world that inhabits her brain.
EMILY KELL
Previously based in Portland, Oregon, Emily is an artist who experiences the world through travel and creativity. Her artwork takes root in 
ideals
 of the divine feminine and a return to the energy of the primordial goddess. In her artwork and in life, she celebrates women, the mystical realm, the spiritual journey of the human family, and the mysteries of the universe. She explores various spiritual realms and dimensions within her artwork and creates pieces that are intended to uplift and heal the collective with a focus on the healing of women in particular. Through her artwork and poetry, Emily endeavors to peel back the veil little by little and bring otherworldly beings and other dimensions into this world. This made her the perfect fit as one of our featured artists for the Women in Art Showcase.
T
he name may be short but the talent is huge. Originating in the Bay Area, Rez now resides here in Denver, Colorado. Rez produces incredible works of ranging from acrylic paintings, pen & ink line drawing, digital design, bodypaint, jewelry/headdress construction, sculpture, mural
 & 
installation work. Rez has studied art in both classroom and one-on-one environments and had her first gallery showing in 2013 at Berkeley City College. The inspiration for her work comes from musing upon the human condition, the rapid development of technology, gothic and brutalist architectural works, the intersection of reason and emotion, and investigations of inner worlds.
MORGAN MANDALA
Some of you may know Morgan Mandala as the counterpart and collaborator to Randal Roberts' artwork and love life, however, she is a visionary all on her own. Morgan was born and raised outside of Chicago, Illinois but has called the front range of Colorado home for over a decade.  She is most recognized for live painting, circular canvases, and imagery of fantastic naturalism combined with geometric forms.
Morgan has toured around the globe performance painting, teaching, and constantly learning. With a double BFA in painting and Art History with a minor in philosophy at Colorado State University, her studies sparked her interest in the relationship between art and spirituality and how this relationship manifests itself throughout global cultures. Morgan's early history as an artist was characterized by naturalistic drawings, however, this changed as she began to focus on painting in college as a meditative and healing practice.  This lead to studies in color vibrational theory, and ultimately, the creation of mandalas.... hence the name! 
MOLLY GARDNER
The Texas-born painter re-rooted here in Denver on her chase for nature and beauty. Though "nature cannot ever be made better" in Molly's eyes, she uses anything and everything Gaia to inspire her. Her main medium is abstracted animals and backgrounds with oils on large canvases, both separately and integrating the two together. Drawing inspiration from her surroundings her goal is to evoke emotions in people, usually those of happiness and joy through her artwork.
As Molly says, "bless the world you are in with your gifts and love those around you."
✺✺✺
This was definitely not Ellie's first art show with GRC and it 
won't
 be her last! Ms. Paisley is a household name at Grassroots as one of our best sellers, collaborators, and friends. Ellie got her start in Pennsylvania at a young age. Attending art schools throughout her whole life, double majoring in the arts and founding her own non-profit, The Technicolor Carnival, at the age of 21, Ellie has taken the art world by storm. From traveling to festivals with her partner in love and creation, Aaron Brooks, to live painting at Red Rocks, countless Dead & Co shows and showcasing her work throughout Colorado, Ellie Paisley is an incredible talent, and should definitely be on your radar as a woman to watch. 
Many say "the future is female". Here at Grassroots, we'd like to believe the present is female.
With talent like this, we are sure the take over of powerful women,
both in the art world and beyond, will happen sooner than later. If you'd like to see it for yourself, stop by 846 Santa Fe Drive, Denver CO to check out some of the magic that makes GRC what it is. With love and dedication from our female collaborators, designers, managers and more, we're raising the bar.
Drink it up!
♀️♀️♀️
|
Posted on September 23 2018