Gramatik's New Grassroots Hat? Confirmed: Lowtemp.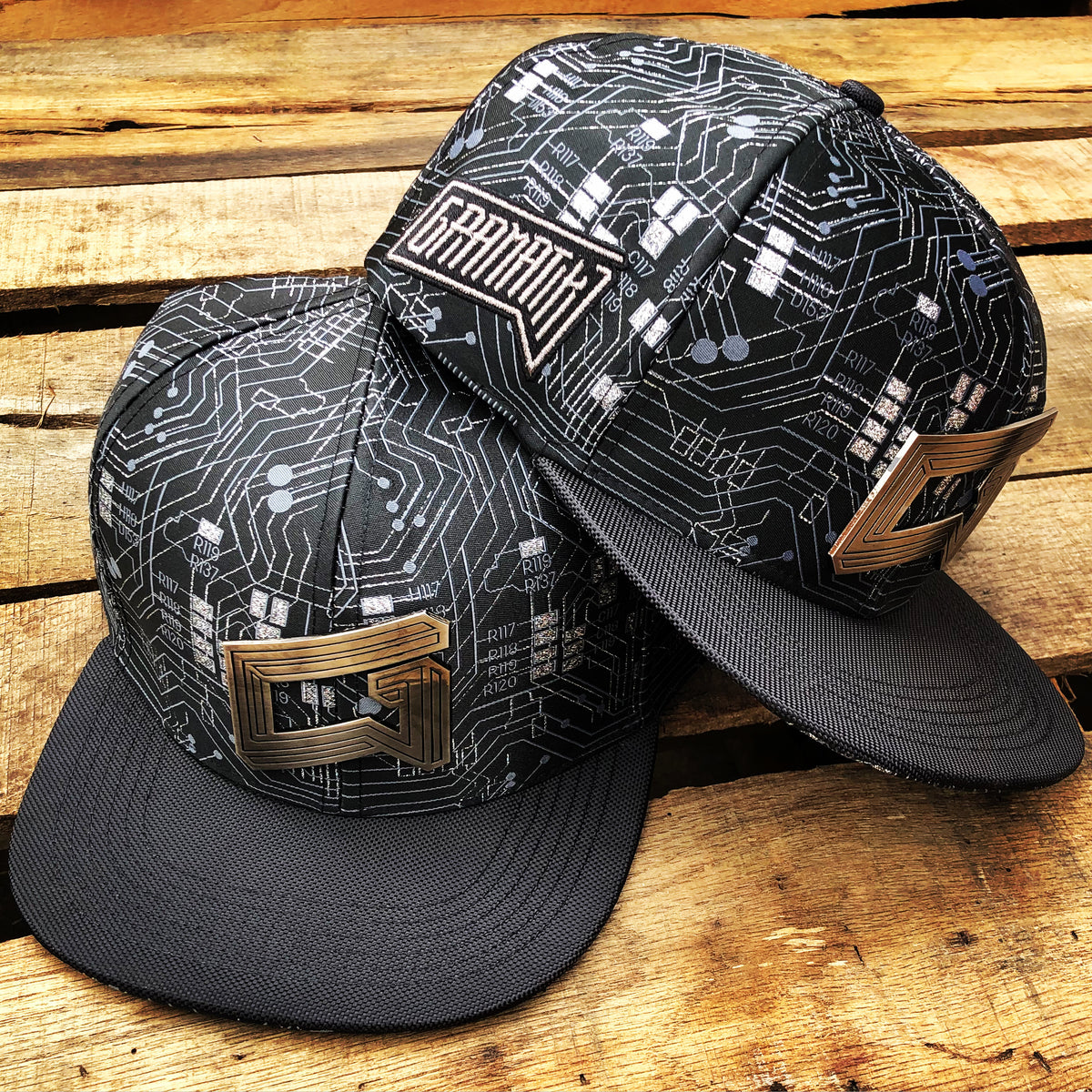 Presenting the latest collaboration with talented musician and futurist - Gramatik !!
Before you read, add Cyberpunk 2020 OST to your playlist. #NowPlaying
 #LEARNBOUTSMTHN
S is for Science!
This hat is an ode to science. Music producer, Gramatik, is an artist with a solid appreciation for science and technology. Gramatik draws inspiration from notable science figures such as Nikola Tesla (yeah, like the OG Tesla...) and Vitalik Buterin, one of the youngest computer scientists and co-founders of Ethereum. Gramatik is a very forward-thinking artist who embraces scientific progress and concepts, frequently tweets or titles his songs to promote them.
S is also for "Scarf" and this Cyber Pashmina is the most heady scarf we've ever seen. It's available now on Gramatik's Merch Site!
T is for Technology! 
Let's talk tech. The literal hardware of this hat, the panels, are embroidered with silver and metallic silver threads which mimic a "PCB" or "Printed Circuit Board" with it's resistors, transistors, capacitors, and coiled inductors! (That's tight.). Gramatik is a huge advocate for cryptocurrency, decentralized finance, information rights, and other cyber-movements as well as the individual freedoms those all bring us. He's humble, too.
E is for Engineering!
Here's the Grassroots Hat's full specs according to Grassroots Designer and project lead, Curt.
"Woven label crown panels featuring a behind the scenes look into the guts of digital equipment Gramatik uses to lay down tracks." — Sick.
"Front full metal badge Gramatik "G" logo."  — This touch of metal on the hat really hits different.
"Ballistic material top visor." — Extra durable for late night festing and daily wear.
"The liner is a satin like poly material and of course houses our signature stash pocket on the the inner left crown panel." — You already know Grassroots hats feature that stash pocket! The lining of this hat adds a touch of color and glam to the hat, too!  
"Printed seam tapes and custom woven "Limited Edition" labels brand the hat." — It's all in the details, Sprout Fam! This LE snapback is lit!
The Gramatik x Grassroots Snapback is available in two sizes: S/M is recommended for hat sizes 7 - 7 3/8, L/XL is recommended for hat sizes 7 1/2 - 8 1/4.
A is for Art!
We love to support artists and art in all mediums! Gramatik was among the first of artists to embrace digital art and cyber arts back in 2017 creating the Gramatik token. Since then, he has rewarded fans for "HODL"-ing the tokens with exclusive access to new music. He has been a huge supporter of NFTs, minting his own NFTs and promoting DeFi marketplaces. Get Gramatik's recent NFT on Rarible's DeFi Marketplace for just 0.002 WETH!
M is for M̶a̶t̶h̶e̶m̶a̶t̶i̶c̶s̶ Music.
According to Gramatik's Twitter Bio, he says, "I make music and bad jokes, often they are one and the same.". His discography dates back 12+ years. His oldest album on Spotify from 2008 is Expedition 44, the same name of a NASA trip to the International Space Station, which also produced some of the most incredible space photographs I've ever seen. IDK if he was being clever about the bad joke thing, or if this manz really memed us with a #ToTheMoon joke back in '08... but damn. 
We need to remember, Gramatik was an electo hip-hop producer who made multiple volumes of "Street Bangerz" and brought some funky, electro-swing flair to stages across the WORLD. There are now 5 volumes in the set that spans over a decade... that is a huge accomplishment we'd like to celebrate!
I feel like this is a major moment to celebrate one of my favorite albums, "Coffee Shop Selection" from 2015. It's an easy listening and chill album I would play as study music. I remember stopping into the cafe next door to the Grassroots Chicago for brunch one day and they literally had this album playing and I had a true "Coffee Shop" moment in the wild.
Now that I've also listened to Luxas and Gramatik's Cyberpunk 2020 OST, I have an even stronger appreciation for the earlier album, The Condor OST. I didn't realize what an "original sound track" or "OST" was until now but spent a lot of time listening to The Condor for lowkey vibes during study sessions and work.
You already know Epigram is one of my favorite albums EVER. It's hip-hop, it's dubstep, it's lowtemp af. Re:Coil became one of the largest Gramatik tours and featured great collabs with Adam Stehr, Balkan Bump, ProbCause, Talib Kweli, Eric Krasno, Luxas, Big Gigantic, Waka Flocka Flame, and lady boss, Chrishira.
Gramatik's entire discography takes over 19 hours to listen to straight through and is such a celebration of music, art, science, and technology! Be sure to follow Gramatik and all things Lowtemp. <3
... AND NOW WE HAVE ANOTHER GRASSROOTS COLLABORATION HAT! Get the hat on the app or online! 
|
Posted on April 18 2021