Grassroots California presents Greener Grounds Momentous Album Release Tour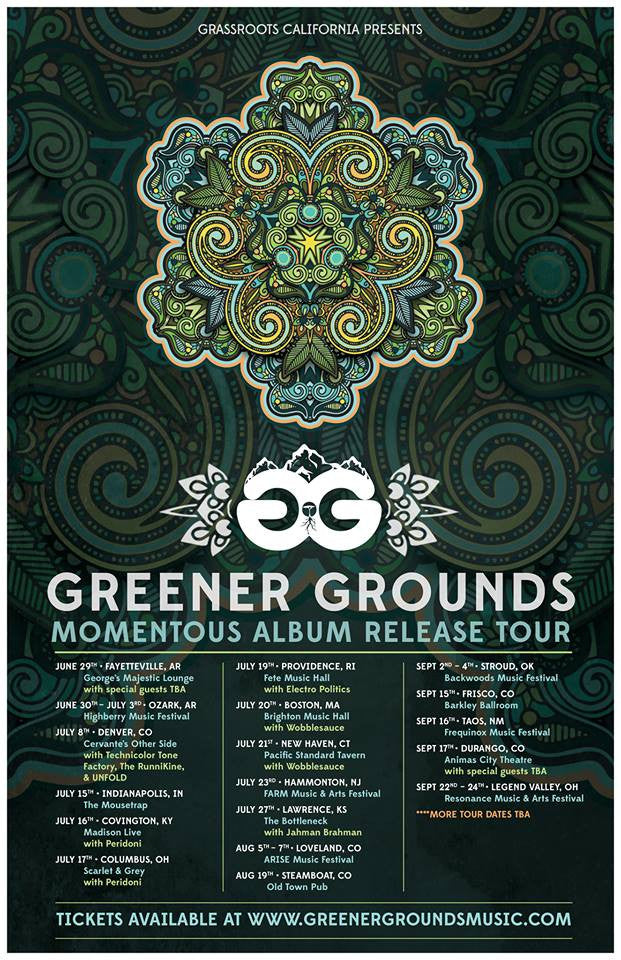 Grassroots California has proudly sponsored Greener Grounds for the past year. Tonight we are proudly presenting their album release party at Cervantes Other Side. We have a limited number of $10 tickets available at our warehouse location in Denver! We are awaiting the restock of our Greener Ground X Grassroots California fitted expected here in a couple weeks!! 
Greener Grounds is a five piece jamtronica band based out of Denver, CO. They quickly gained momentum and secured a name for themselves in the highly competitive jamtronica music scene. Inspired by the likes of Lotus, STS9, the Disco Biscuits, Phish, and Umphrey's Mcgee, they blend many styles including psychedelic funk, rock, trance fusion, and break beats. Their eclectic sound continues to take crowds by surprise ensuring a lively, danceable, and energetic vibe where ever the road takes them. Greener Grounds features Joe Shur on lead guitar, Mathew Buelt on rhythm guitar, Roland Hansen on keys and synth, and AJ Gillman on drums and percussion.
Holding themselves to a high standard, Greener Grounds is comprised of passion, collective consciousness, environmental sustainability and unity, which is all expressed through their music. Constantly evolving in their sound, performance, and presence, they have caught the attention of sponsors, stages, and festivals all around the United States. Their "Practice makes perfect" mentality is visible in their connection to each other and their fans at each show. In the past year they have lit up the stage at Sonic Bloom, ARISE Music Festival, and Resonance Music & Arts Festival. Accompanied by performances with Perpetual Groove, Kyle Hollingsworth Band, Kung Fu, the Main Squeeze, Consider the Source, the Magic Beans, the Mantras, YAMN, and many more!
Last year's release of their first EP, Photosynthesis, has been praised and quoted as "Jamtronica Gold," by The Untz setting them up for a bright future in the studio world. Greener Grounds is currently recording their first full length album titled, Momentous, which was successfully funded by through their Kickstarter Campaign. Set to be released on July 8th, 2016 Momentous will be a groundbreaking force for both the jam band and livetronica music scenes. Please visit: www.GreenerGroundsMusic.com for the latest updates, tour dates, free downloads, videos, merchandise, and more! Check out the new single "Komodo" from the brand new album Momentus!
Keep up with all things Greener Grounds here!