5 Facts You Should Know About Jimbo Phillips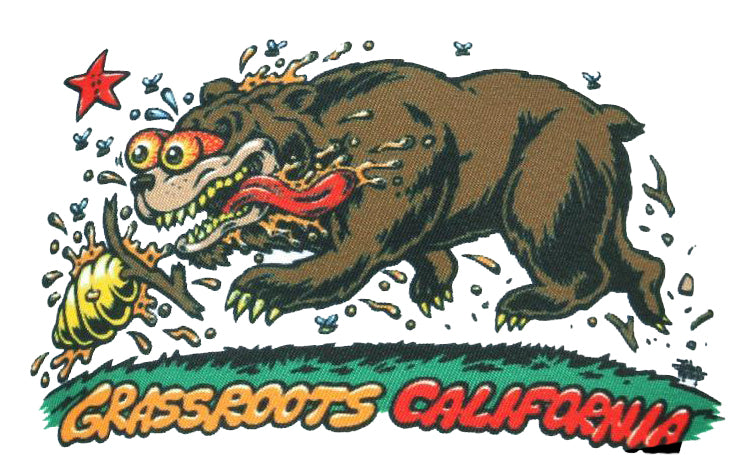 This winter, Jimbo Phillips and Grassroots California collaborated to bring you 9 new products! From hats and apparel to pins and even a new skateboard, Jimbo Phillips' newest gear is as "bold" and "mind-numbing" as ever!  Jimbo headed over to Grassroots Chicago for this highly-anticipated merch drop and told us a lot more about his art.
Jimbo's GRC Bears
Grassroots has used the California Bear in multiple products to pay homage to where we were founded. (Check out our Removable Bear patch items to see what we mean!).  Jimbo Phillips put his spin on the California bear for the artwork in this collection.  His take on the bear features a big, brown grizzly totally freaking out! Eyes bulging and tongue out, this bear is tweakin'! Surrounded by honey bees, it's clear this bear is after a bee's nest dripping with sweet honey-goodness!  This design is featured on the Green and Black Trucker Hats and the Cali Bear Brown Dad Hat in the new Jimbo Phillips collection. 
Jimbo likes to draw outrageous faces so the second design he did for this collection is all blasted out! Jimbo's Bear Face artwork is featured on the GRC Bear Reversible Hoodie, Tall Pullover Hoodie, Removable GRC Bear Snapback, and Color Pin. An iridescent rainbow and white variation was also created for the Rainbow Pin (which glows in UV light!).  Also used on the removable bear patches in this collection, you may also find the Black-and-White or Black-and-Gray variations to swap off your hoodie or hat!
Jimbo Phillips in the Movement Gallery
Back in November, Jimbo Phillips flew out to Grassroots Chicago's Movement Gallery to showcase some of his newest pieces and the classics!  The gallery was adorned with his rock poster prints, hand painted skateboards, and a table filled with slaps and accessories.  Skate fans, art fans, and Grassroots fans of all ages came to meet Jimbo and purchase prints. One fan requested Jimbo sign his rib cage in permanent marker so that he could get it tattooed over later.  Since then, his cruiser skate deck has sold out online, but two Cruiser Decks are still available at Grassroots Chicago!). I also was excited to meet Jimbo and had him sign the pullover hoodie I got when starting at GRC.
During his stay, we chatted about his work and success.  I was shocked to realize that I recognized his artwork from the 2005 PlayStation 2/Xbox game, Tony Hawk's American Wasteland.  His graphics perfectly complimented the setting and skaters featured in the game. We talked about his work process: starting with a pencil sketch, then working in ink, and finally digitalizing with color.  Jimbo's love for art and creation was clear: he loved the creativity, flexibility, and satisfaction that comes from executing and completing a project. 
But what makes Jimbo most interesting? Here are five tidbits of information you may not know about this talented artist and designer.
5 Facts You Should Know About Jimbo Phillips
1. Art runs in the family!
Jimbo's father, Jim Phillips, designed all Santa Cruz Skateboards' artwork in the 70's and 80's and was the creator of the iconic "Screaming Hand" logo.  He started drawing as a kid and started working with his father at age 19.  From decals to magazine ads, t-shirt designs, and skateboards, Jimbo was paving a path for himself.
2. Jimbo is an entrepreneur!
In the early 90s, Jimbo started his own graphic art business continuing to work for skateboard, surf, and snow companies as well as designed both rock posters and apparel.  Jimbo has designed posters for Slightly Stoopid, Metallica, Pennywise & Primus.
3. Jimbo isn't afraid to try new things! 
While Jimbo is best-known for his super graphic designs, he has recently done a few murals and has tried acrylic painting.  While we love his ink work and digitalized art, we look forward to seeing his other styles of work, too!
4. 3 Faves: Skating, surfing & pizza!
Jimbo has been skating since he was 6 years old.  He uses the "no rules" attitude from skating to inspire a lot of his artwork. Jimbo's iconic "Skate Freak", "Skate Creep", "Screaming Pizza", and "Pizza Skull" graphics are now on hats, prints, moodmats, pins, stickers, and even a Pizza mask!
5. Grassroots California hats are Jimbo's favorite!
Jimbo was familiar with our brand prior to collaborating, Jimbo likes the comfort and durability of our hemp hats.  This "Skate Creep" hat is one of his favorites!  Jimbo has now made released more than 20 products in collaboration with Grassroots including a Cruiser Deck featuring his GRC Bear design. While some styles are sold out, you can see available styles from the Jimbo Phillips Collections here!
|
Posted on January 04 2019