Shalak Attack and Bruno Smoky at Grassroots Chicago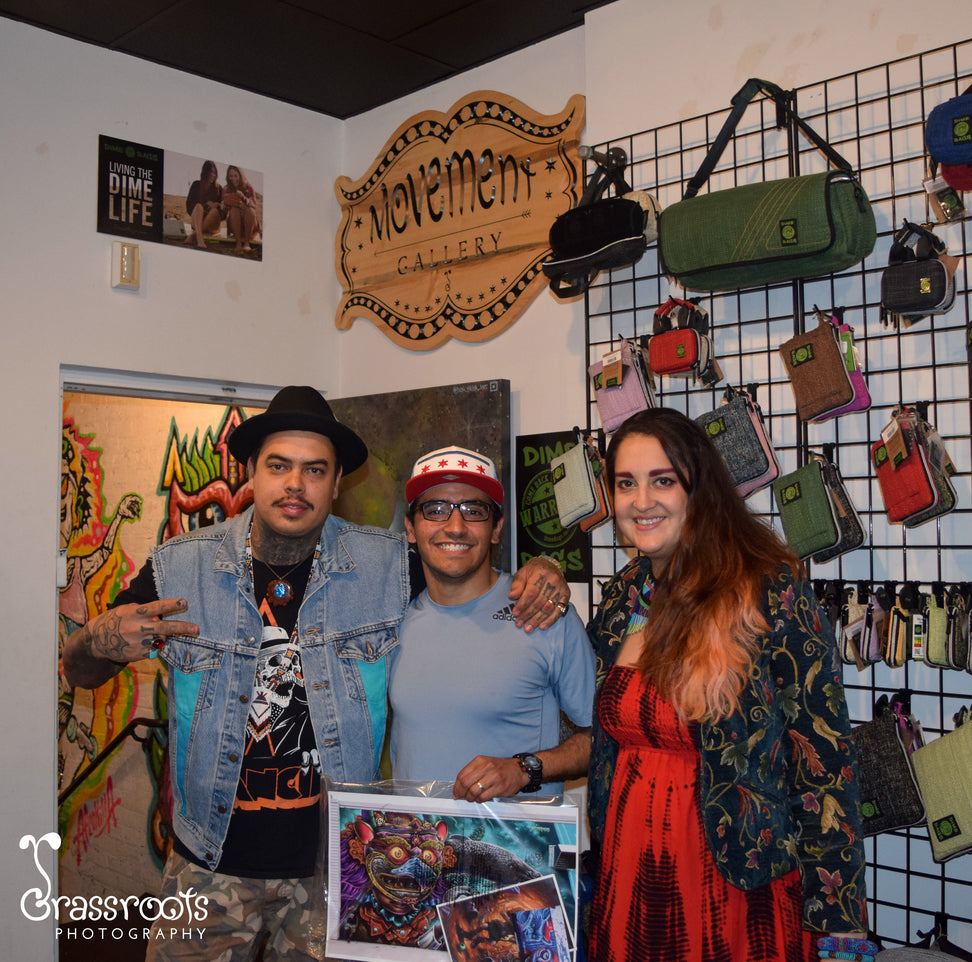 Bruno Smoky and Shalak Attack are a team of spray paint and mixed-medium artists based in Toronto.  The two were in Chicago from June 6 through 16th as feature artists in the Movement Gallery at Grassroots Chicago. Their show titled "Creatures from Beyond" featured 11 highly-detailed canvases featuring fish, bears, birds, insects, wolves and more that symbolize various aspects of life and culture. 
A few days before the show, I had the pleasure of helping the duo prepare for their show by taking them to Home Depot to shop for supplies. Shalak and Bruno spent the days leading up to the show working together to build and paint unique frames for each canvas and put final touches on all their pieces.
Bruno and Shalak have an incredible connection and embody the "Creatures" spirit they put together for this show.  "Fh-Fhee!" Shalak whistled as we stood in the middle of the aisles at Home Depot, looking down each side. "Fhweee!" A matching whistle came from a few aisles up.  Bruno's head popped out shortly after. "Bruno will be doing the spray painting," she confessed.  "I don't know if you knew, but I'm pregnant!".  She and Bruno looked proudly at each other.  "It's just not healthy for me and the baby right now."  The couple's respect and passion for each other is unparalleled. While we sat in traffic on the way back to Grassroots, they shared the story of how they met while painting in Rio de Janeiro in 2010 and hit it off right away. While the couple has traveled the Dominican Republic, Brazil, and Chile to stay together, they now reside happily in Toronto, Ontario.
On opening day, Shalak sat upstairs in the sunlight, adding a few finishing touches to their wooden piece "Bear Roots".  Down in the Movement Gallery, Bruno spent time adding wall accents with spray paint and acrylic which brought the pieces to life. Smoke billowed off the canvas in "Evoking Spirits" and hair draped onto the wall as it hung from the head of the two women in "Inside Out".  The couples attention to detail in this show is what made it spectacular.  The hyperrealistic detail, highlighting, and color palette in each piece is highly attractive and special. The symbolism and story that each piece tells is what I admired most.
Aside from 11 canvases, the show also included 3 intricate hand-embroidered pieces using various fabrics and embroidered creatures featuring insects and a wolf.  Shalak contributed 2 other mixed media pieces featuring her own watercolor artwork on various textiles covered in resin. Bruno Smoky and Shalak Attack released 3 prints featuring some of their previous mural work at Collective Brew Co. in Ontario and on a building in Winnipeg, Canada. "Mending," their 4-story mural in Winnipeg is a tribute to the many indigenous women who have gone missing in and around that area.
In collaboration with Grassroots, Bruno Smoky released a new fitted, "Going Home", snapback, "Beyond the Waters", and bandana with his original art.  Shalak Attack released two new snapbacks ("Spirits" and "Double Trouble") and a "Spirits" bandana as well.
 Our official album from "Creatures from Beyond" featuring photos of all the pieces in the Movement Gallery can be found on the Movement Gallery's Facebook Page or the Grassroots Chicago Facebook Page.