Turn Heads in 2020 with Grassroots Tech Tie Dye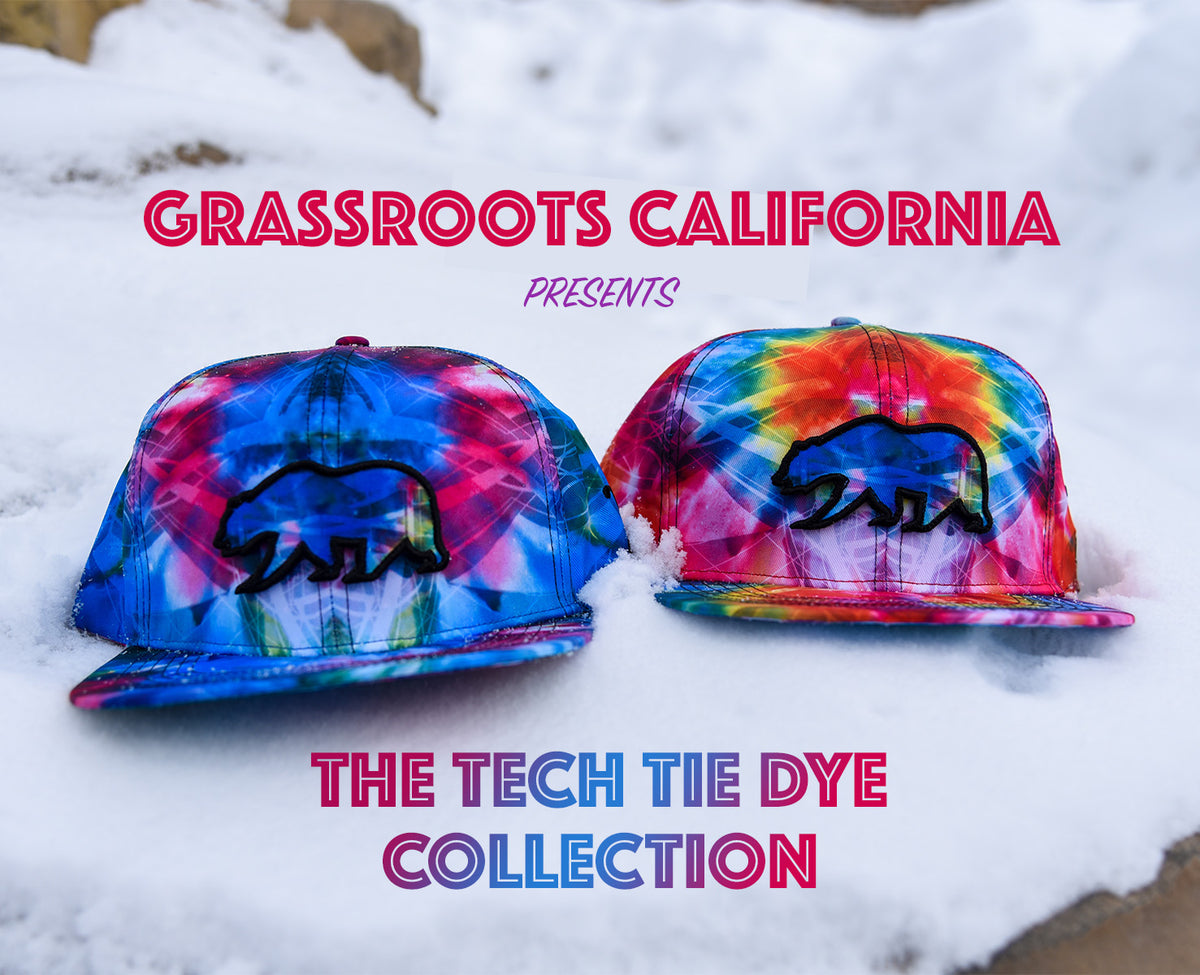 We're bringing color to your closet this February! As part of our Pre-Spring 2020 drop (the first time we've ever dropped an original line in February!), we've released 12 new items that are sure to turn heads.  If you've visited our vendor booth at festivals, you may recognize this look already. GRC Designer, Curt Holzer, initially created this artwork for our custom tablecloths and banners. Drawing inspiration from our festival-ready set-up, he created this eye-catching collection of hats and apparel. "The name "Tech Tie-Dye" comes from the marriage of the free-loving, old-school hippie vibes to a more new-age and bass-loving, techno crowd," Holzer explained. The Tech Tie Dye collection includes two variations: the Rainbow tie-dye and a cool-toned Blue tie-dye. Designed for the techno lovers and bass heads, this collection also suits the free-loving festival-goers and the colorful spirits who crave a bold look out there in the crowd.
Perhaps one of the most exciting items in this collection is our newest jersey: the Tech Tie Dye Blue jersey. For the first time in years, we've dropped a basketball-style Grassroots jersey with our California bear on the front and number "09" on the back.
Grassroots California was founded in 2009, so you're truly repping our team wearing this one! Crave the whole outfit? We've also included a pair of blue tie-dye shorts to match. Not feeling sporty? Try one of our sublimated T-shirts in either pattern to complete your trippy, tie-dye style.
Whether it's cold, windy, or you just want to retreat into your hood, we've got you covered. In this collection, you'll find the Tech Tie Dye Reversible Hoodie (with a stash pocket sewn into the left arm!) and the new Rainbow Anorak Jacket. Our anorak now ranges in sizes XS-XXL, with a kangaroo pouch pocket on the front, and a stash pocket on the back of the hood. To top off your look, the Tech Tie Dye collection features curved-brim dad hats in both prints, as well as a Blue snapback and Rainbow fitted hat with Removable Bear patches to mix-and match your own custom look.
A reversible bucket hat and drawstring Boonie hat are also available to complete your tie-dye style. Don't forget to check for stash pockets in this gear to conceal your small, personal items while on-the-go. We'll see you out there SproutFam! Stay vibrant!
|
Posted on February 09 2020