The Movement Pop Up Gallery and Whats To Come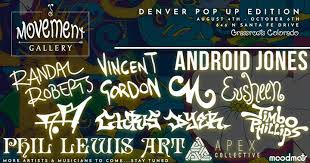 If you didn't have the pleasure of joining us for the Movement Pop Up Gallery this summer, we're recapping it here as we look back on an amazing season and approach our One Year Anniversary! 
The Gallery started off with
Eusheen Goines
, a Colorado local and well-known glass blower. This was a great kick-off to the ten-week event! The beer was flowing, the Art District was alive for its annual First Friday Art Walk, and the fans were happy to be in the presence of such an impressive artist. 
We followed with a fantastic party at
The Black Box
to get everyone ready for our event with the one and only,
Aaron Brooks
. Aaron has burst on to the scene and been a wonderful addition to Grassroots. His followers have become family and we could not have had a better time having them here with us. We dropped a huge line of product for Aaron, some of which is still available in-store and
online
! 
Rounding out August was the dynamic duo of
Vincent Gordon
and
Matt Robertson
with their line of
Multibeast
magic! From woodcut art to glass blown beauties, the beasts were let out of their cage and took over our flagship store in full force. 
We stacked the begging of our September line up with the kings of the collab,
Apex Collective
and fan favorite,
Chris Dyer
. For both these shows, we dropped some epic artist edition
hat carriers
which are available for purchase at all
Although the Pop Up Gallery is over, we are honored to have had such a great beginning as we continue our journey here at
Denver's Flagship Grassroots
shop.
With First Fridays and more events to come, we hope you follow us into our second year. Coming up this month we will have local artist Clinton Reynolds for our
November First Friday Art Walk
.  You can keep up to date with all our upcoming events, sales and new merchandise on our
facebook page
,
website
and
Instagram
. 
A major thanks to all of our contributors in this past year
|
Posted on October 27 2017