Grassroots reps at Umphrey's McGee's "it's not us" Release Party in Chicago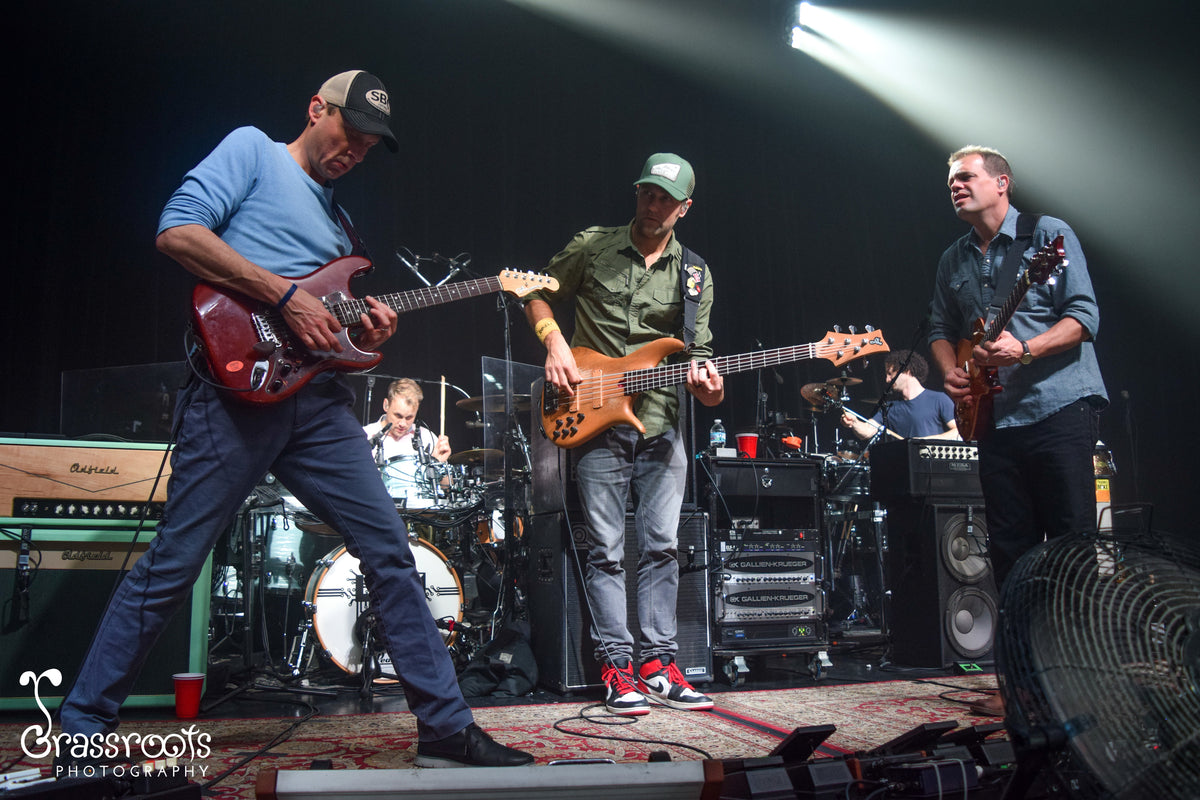 Park West Chicago is one of the most intimate, little venues in Chicago, and perfect for the one-of-a-kind Album Release Party that Umphrey's McGee hosted for the drop of their new album: "it's not us".  The stage and standing room floor still give you the feeling of attending a large show, but the reserved booths and seating just feet behind you give a formal club aesthetic.  Seated above, on the second floor, is a VIP section, complete with bar service.  We certainly felt like VIP being invited to shoot and capture the event for Umphrey's McGee!
it's not us
Guests mostly included friends and family who gathered to celebrate the success of the 20-year old band and listen to their newest tracks from Umphrey's' 11th studio album. Upon entering this special event, each guest was handed an official "it's not us" Release Party pin, labeled with the show date and venue on the back.  After a formal welcome and introduction from band managers Vince Iwinski and Kevin Browning, the six band members entered from stage right and took their places, standing just a few cords and distortion pedals away from their fans. 
The Live Set
Umphrey's McGee proceeded to play a number of songs from the new album, peppered with commentary and banter.  Brendan Bayliss, one of the guitarists and song writers, described his inspiration behind "You & You Alone" which channeled his emotional journey "stepping into a new shoe" as a parent. He also described getting woken up by his kids after a long night out in the song "Whistle Kids", which features the bandmates whistling a tune throughout the song.  Jake Cinninger enjoyed singing "Looks", a darker, heavier song which the band joked revealed Jake's "darker" side.  The band also surprised fans with a cover of "Can't You See" by The Marshall Tucker Band, and an incredible version of "Bridgless", one of the band's most famous songs.
Meet the Band
After the first set, band members Andy Farag, Kris Myers, Joel Cummins, Ryan Stasik, Brendan Bayliss, and Jake Cinninger left their instruments on stage stepped out intro the crowd.  They mingled with fans while their new album "it's not us" played over the sound system.  Spread throughout the venue, each band member greeted fans by taking pictures, signing vinyls, posters, and apparel, and welcoming questions and discussion. We were super stoked to catch up with Ryan Stasik, the band's bassist who has a line of flannels and hats with Grassroots!  After a phone interview last fall (blog post here!), it was great to meet in person and snap a pic with one of our faves!  Street team in the lobby passed out complimentary copies of the album to each guest as well.  It truly was a special night for the band and fans to share and for Grassroots to be a part of!  To check out our official photo album from the party and meet-and-greet, click here or visit the Grassroots Chicago Facebook page! 

um Merch
In honor of the band's 20 year anniversary, Grassroots has released a 20th Anniversary Navy Beanie, featuring a navy G-Sprout, a fluffy pom, and an "um XX" badge!  Also new from Grassroots, this Umphrey's McGee Striped Beanie is another product perfect for repping Umphrey's McGee while staying warm this winter!  We also recommend the Bassik Stasik 2017 Snapback, Ryan Stasik's 4th Grassroots' hat!  In addition to these products, we also feature a number of other Umphrey's McGee and Ryan Stasik hats and apparel on our website and in stores!
Connect with Umphrey's McGee
Connect with Ryan Stasik
Connect with Grassroots Chicago
About the Author
I'm Niki Graham, Grassroots employee and total Umphreak! For more pictures and videos from Umphrey's McGee shows and other music festivals and concerts, follow me, Niki Graham, on Facebook, Instagram, and Twitter, and stay tuned for more posts on the Grassroots blog! Thanks for reading! \mm/ #umphlove
|
Posted on January 19 2018